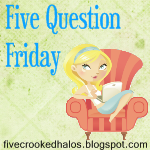 Welcome to Five Question Friday!!
You've come to the right place if you want a fun, easy post or if you've suddenly discovered your muses' gallbladders have them in a headlock and refuse to release them.
Rules for 5QF: Copy and paste the following questions to your blog post, answer them, then watch for the linky post to appear Friday morning and LINK UP!
Oh, and remember (pay close attention...this is the important one)...HAVE FUN!
Questions for Friday, August 3rd: (Special thanks to Pam (@trooppetrie) from Troop Petrie, Brooke (@HallBro) from Brooke and Michael, Maranda, getting all political on us ;) (@MarandaLamping) from Maranda Lamping, Tina (@PeazyT) from I Have Autism, Not Cooties, and Mrs. K (@KSJD22) from Mrs. K and Captain J for these 5QF question suggestions! I would love to link you in a future 5QF, so come on over to my community or watch for my Thursday afternoon shout out for questions on Twitter and offer up your best question suggestions! Remember to @5crookedhalos me and use hashtag #5QF if you go the Twitter route!)
1. What is a must in a hotel room?
Water glasses and a book with local attractions, if I am out of town.
2. Which Olympic event would you be best at?
I can swim... kinda...
3. What's your stance on the Chick-fil-A subject?
I believe that political and religious beliefs are that of our own and not of the business we run. This should never have been an issue and I feel it has gone outside it's bounds. The only thing that is going to happen is that one more fast food chain will be on the hit-list for those protesting them.
4. One thing you said you'd never do as a parent, but totally have.
Act like my own mom... and clean my son's room... to find the dirty clothes and missing water bottles!!
5. What's the weirdest thing you've ever found at a yard sale?
I typically don't do yard sales, but my ex-husband has come home with a king size waterbed.