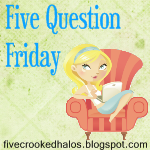 1. How often do you shave your legs in the winter?
I still shave every other day...
2. Valentine's Day cards for your spouse: funny or romantic?
No spouse... no card...
3. What are you most looking forward to about spring?
Flowers growing outside
4. What's your favorite way to pamper yourself?
I don't take the time for myself... does one spa day in 42 years count?
5. Does your tax return go into savings or do you spend it instantly?
Into savings...