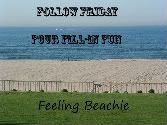 Each week Hilary at
Feeling Beachie
lists four statements with blanks for us to fill in on our own blogs. She is always looking for new ideas. If you send her some statements and she uses them you will be made co-host. It's so much fun and interesting to read everyone's answers.
This week's statements:
1. _
Being spontaneous
_ is not my strongest virtue.
2. _
Lunch
_ is my favorite meal of the day
3. _
Cheese-filled pretzels
_ is my _
weakness/craving
_
4. Whenever _
mass confusion
_ happens, I always _
panic slightly
_.