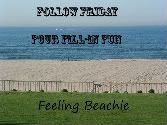 This week's statements:
1. I can't believe_we are already in December_.
2. _All I want for Christmas is a real good tan_is my favorite Christmas song
3. If I don't have my _"me time"__ in the morning, I cannot make it through the day.
4. I love my __son_ dearly but wish _he would just slow down a little_ .