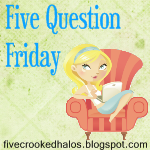 1. What is your favorite Christmas cookie? Frosted sugar, with decorations
2. What's your favorite holiday movie and why? The Muppets Christmas Carol... because... it's the Muppets! HELLLOOOOOO!
3. Is there a gift that you bought for your kids that you wish you hadn't after they opened it? Not that I can remember.
4. What is the messiest room in your house right at this moment? My own...
5. What is the furthest you have driven for the holidays? Probably 45 minutes.