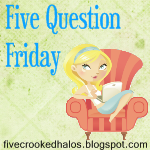 Welcome to Five Question Friday!!
You've come to the right place if you want a fun, easy post or if you've suddenly discovered your muses are caught in this whirlwind called "life".
Rules for 5QF: Copy and paste the following questions to your blog post, answer them, then watch for the linky post to appear Friday morning and LINK UP! (Feel free to play along on Twitter, also!)
Oh, and remember (pay close attention...this is the important one)...HAVE FUN!
1. Groceries are high right now what is easiest way you have found to cut back? Cut back on the snacks.
2. What are the top 3 things on your "bucket list"? I don't have a bucket list...
3. Would you rather give up AC or heat? Heat
4. What's your favorite cocktail?? A glass of wine
5. What was your first job; how old were you? a newspaper delivery girl and I was 13.