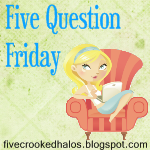 1. Do you make your kids finish all the food on their plates?
2. Do you give an allowance?
Only if they do things like mowing the lawn and doing the laundry.
3. Do you actually park your car in the garage?
4. What is one food you will NEVER cook?
5. Do you have anything exciting planned for the summer?